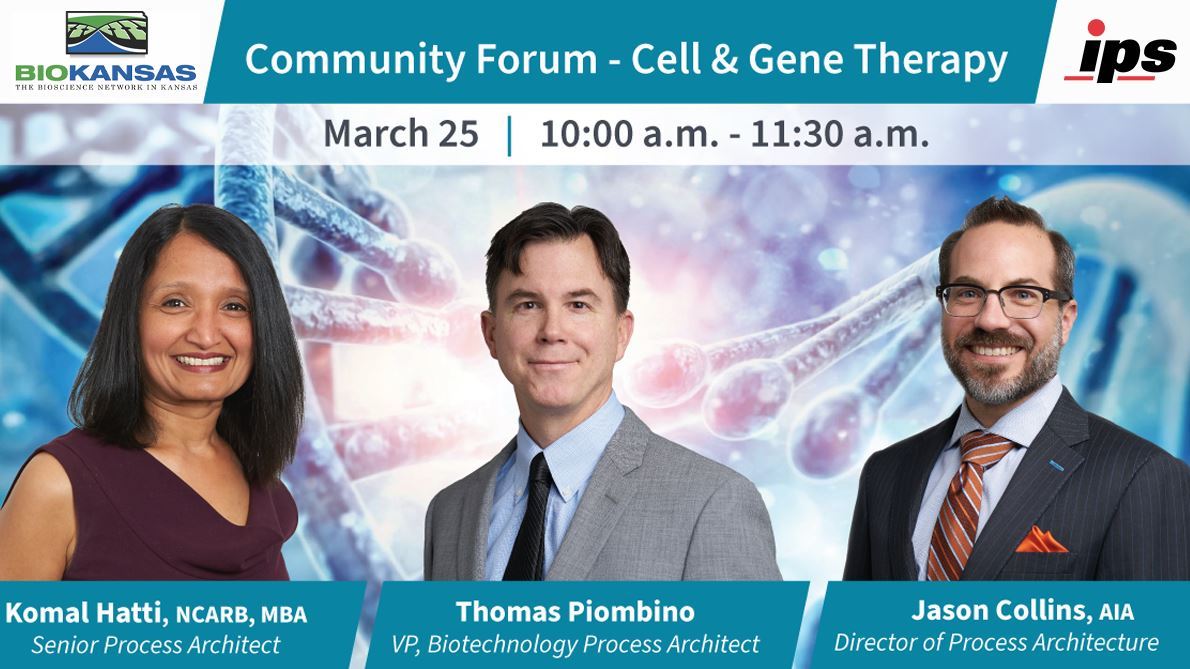 This interactive forum discusses the latest in cell and gene therapy trends and their potential to impact the economy.
Blue Bell, Pennsylvania, March 19, 2021 – IPS-Integrated Project Services, LLC, a leading provider of engineering, procurement, construction management, and validation (EPCMV) services, announces its partnership with BioKansas to host the Community Forum – Cell & Gene Therapy on March 25th from 10:00 – 11:30 a.m. CST.
This Community Forum is open to all career levels and geographic regions. The event will share the latest cell and gene therapy trends and explain how growing Kansas City's cell and gene industry will positively affect the regional economy.
Attendees will have the ability to connect directly with industry experts through interactive sessions. Presenters include Trent Armbrust, Sue Behrens, Todd Bradley, Ph.D., Heather Decker, Tom Piombino, Karthik Ramachandran, Ph.D., and Kimberly Young. Sessions will be moderated by Jason Collins, Sonia M. Hall, Ph.D., and Komal Hatti.
Event Agenda:
10:00-10:05 Event Introduction

Presented by: Sonia M. Hall, Ph.D., President & CEO, BioKansas

10:05-10:20 Cell & Gene: Technology & Medicine

Presented by: Tom Piombino, PE, Vice President, Design, IPS-Integrated Project Services, LLC

10:20-10:35 Impact of Cell and Gene Advancement on the Pharma Industry

Presented by: Sue Behrens, George B and Joy Rathmann Professor in Bioprocessing and Director, Amgen Bioprocessing Center

10:35-10:50 Cell & Gene in the KC Region

Presented by: Todd Bradley, Ph.D., Director of Immunogenomics, Genome Medicine Center and Children's Mercy Research Institute

10:50-11:25 Cell & Gene as an Economic Driver

Moderated by: Jason Collins, Director of Process Architecture, IPS-Integrated Project Services, LLC
Panelists:

Karthik Ramachandran, Ph.D., Chief Operating Officer and Co-Founder, Likarda
Kimberly Young, President, KC Animal Health Corridor
Trent Armbrust, Director of Strategy, Bioscience and Technology, Kansas Department of Commerce
Heather Decker, Chief Technology Officer, Ronawk, LLC

11:25-11:28 Upcoming Pharma Event Preview
11:28-11:30 Closing Remarks

Presented by: Komal Hatti, NCARB, MBA, LEED AP, Director, Process Architect, Associate, IPS-Integrated Project Services, LLC
"A concerted investment in cell and gene technology is vital for the Kansas City region, as it is quickly becoming one of the most dominant sectors of the pharmaceutical industry," states Komal Hatti, IPS Director, Process Architect, and program coordinator and moderator.
Register for the event at https://biokansas.org/?page_id=2684.
About IPS
IPS is a global leader in developing innovative business solutions for the biotechnology and pharmaceutical industries. Through operational expertise and industry-leading knowledge, skill and passion, IPS provides consulting, architecture, engineering, construction management, and compliance services that allow clients to create and manufacture life-impacting products around the world. Headquartered in Blue Bell, PA-USA, IPS is one of the fastest-growing companies servicing the life sciences industry with over 1,500 professionals in the US, Canada, Brazil, UK, Ireland, Switzerland, Germany, Singapore, China, and India. Visit our website at www.ipsdb.com.
About BioKansas
BioKansas is a non-profit organization whose mission is to lead the effort of supporting and growing Kansas' bioscience ecosystem including bioscience research, commercialization, training, and business development. Through organizational and collaborative efforts they provide meaningful content, connections, and advocacy to advance the state's bioscience industry. Learn more at https://biokansas.org/.Download Media